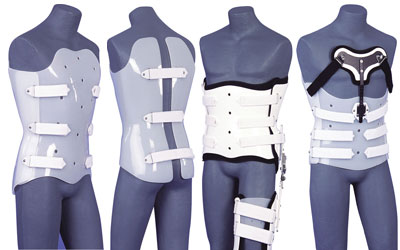 Western North Carolina residents have a lot of reason to want to get outside and move. From thousands of miles of hiking trails to numerous creeks, rivers, and waterfalls, there are practically infinite outdoor activities. Asheville weather is mild in the winter and relatively comfortable in the summer for a southern city. From the River Arts District and downtown to surrounding suburbs and satellite towns, you do not have to venture into the forest to find something fun to see or do.
If you utilize spinal orthotic devices to help improve mobility and reduce pain, you know the importance of finding the highest quality belts and braces. Orthopedic Appliance Company has been helping people get out and see western North Carolina by providing quality spinal orthosis since the 1960s.
Spinal Orthotics Asheville, NC
Spinal orthotics help users by increasing intracavity pressure, restricting trunk motion and modifying skeletal alignment. The degree of restraint ranges from the lesser amount provided by fabric corsets to the maximum immobilization and control of the thoracic and lumbar spine afforded by a custom made, plastic body jacket. Various spinal orthotics include:
Elastic Rib Binder
Sacroiliac Belt
Trochanter Belt
Corset
Soft LSO and TLSO
Rigid LSO and TLSO
Scoliosis Brace
Pediatric orthotic devices
If you would like to know more about adult and pediatric spinal orthotics consult your doctor and contact Orthopedic Appliance Company. We are here to help you move well. We have been helping clients for almost sixty years and would love to serve you with high quality, custom made spinal orthotics in Asheville, NC.