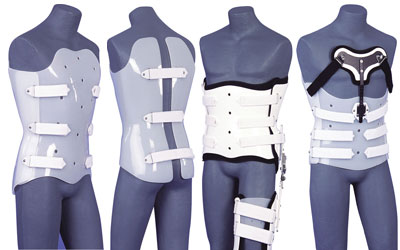 The Asheville area is a great place to live with many activities to enjoy. For patients suffering from neck pain due to injury or a medical condition, you want to get as healthy as possible as soon as possible. Orthopedic Appliance Company offers several cervical and spinal orthotic devices, custom developed to help you recover and enjoy everything our great mountain city has to offer.
Cervical and Spinal Orthotics Asheville, NC
Cervical and Spinal Orthotics help people dealing with a variety of conditions ranging from hyperextension and vehicle accident injuries to hyperextension and scoliosis. A few of the devices we custom-build include:
Thoracolumbosacral Orthosis (TLSO): Usually custom fabricated, typically a two-piece clamshell design. It extends from just below the collar bone down to the pelvis. It is used to immobilize the spine and decrease pain.
Lumbosacral Orthosis (LSO): Like TLSOs, Lumbosacral Orthosis is used to immobilize the lower spine. The brace usually starts around the xiphoid process and extends down to the pelvis.
Cervical Thoracic Orthosis (CTO): After an injury to the spine or spinal surgery, CTOs are used to stabilize and reduce motion of the head or neck.
Hyperextension Orthosis: By applying three points of pressure, these braces help users maintain proper spinal posture, preventing flexion in the lumbar and thoracic spine.
Adult Scoliosis Orthosis: To accommodate the sideways spinal curve associated with scoliosis, these plastic jackets are worn by patients around their torso with straps that keep the device in place as it works to help accommodate the spine.
Additional cervical devices include:
Soft Collars
Rigid Collars
Halos
S.O.M.I. Sterno Occipital Mandibular Immobilizer
You can find more information about adult orthotic devices in this guide, or by contacting us. Orthopedic Appliance Company has served the Asheville are for nearly sixty years and we will be happy to guide you through the process of recovering from injury or conditions that affect your life.